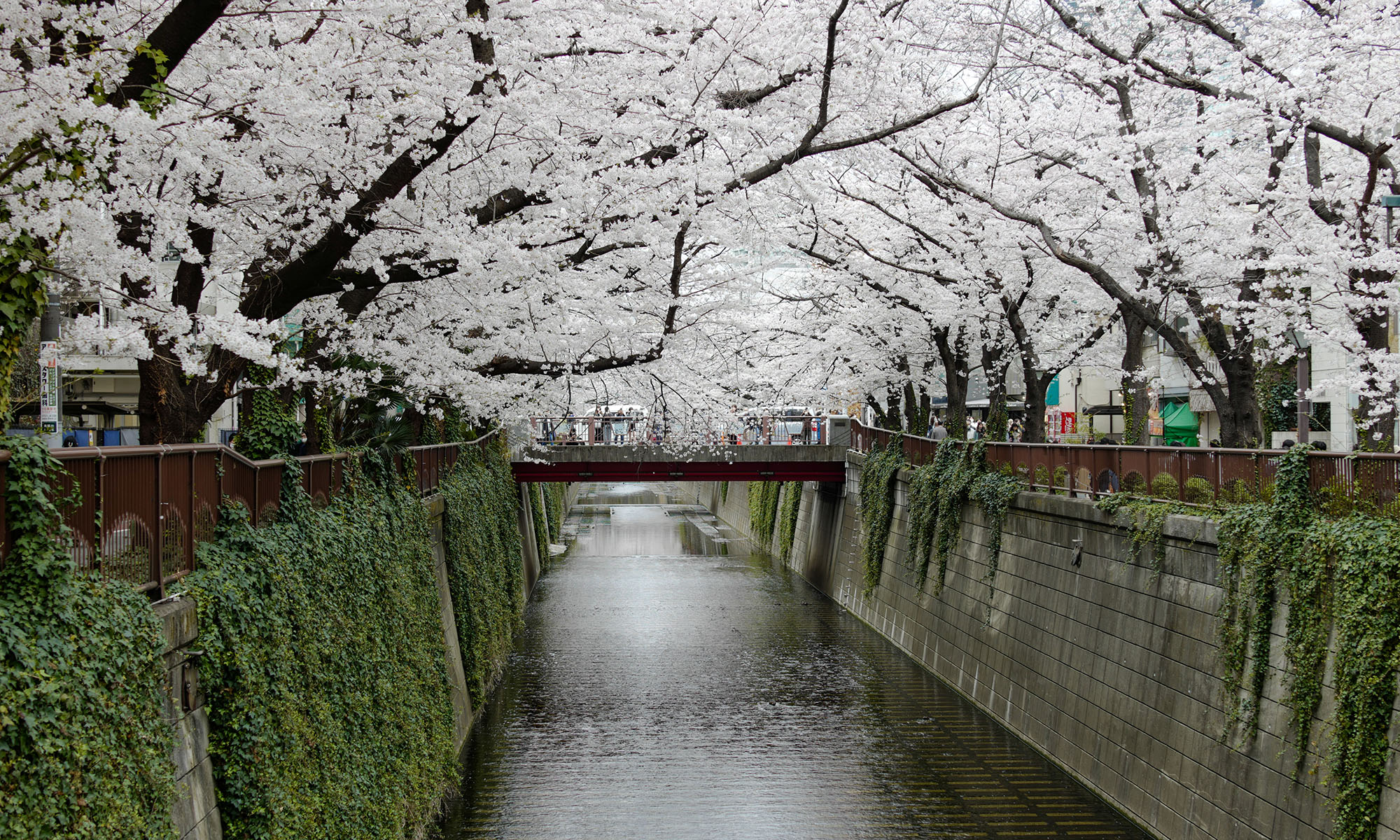 育む道
The Road that nurtures
東京都/ 目黒区
推薦者 : 東谷彰子(タイムアウト東京副代表)
Tokyo, Meguro Ward
Recommended by Akiko Toya (ORIGINAL Inc. Executive Vice President)
目黒川の左側を行って、中目黒駅を越えてその先の線路のあたりまで着いたら、今度は目黒川の右側を戻ってくる。
自分の通勤路でも犬の散歩ルートでもあるので、日常で使う道です。
春になるとスタート地点の国道246号線から桜が咲いているんですが、スターバックスのテラスに行って上から眺めると、桜のカーペットのように見えるんです。高さによって景色が全然変わるのが面白いなと思います。
桜の後の新緑の季節もきれいです。木陰で涼しくも感じますし、カルガモの親子がいたり、カワセミやカメもいたり。生き物探しが面白くて、目黒川という人の手の入った川でも、野生の暮らしがあるんだねと子どもと話したりします。
世田谷区に入ると、ザリガニ釣りをしている人がいたり、川の掃除をしている人がいたり。近所の人に愛されているなと感じますね。目黒川を生活の一部にしている人が多いと思います。
人も、動物も、季節までも育まれる。道に名前を付けるなら「育む道」でしょうか。
I go on the left side of the Meguro River, cross over Nakameguro Station and when I reach the area around the railroad tracks beyond, I now come back on the right side of the Meguro River.
This is the route I use on a daily basis, as it is both my commuting route and my dog walking route.
In spring, the cherry blossoms are in bloom from Route 246 at the starting point, and when I go to the Starbucks terrace and look at it from above, it looks like a carpet of cherry trees. I think it is interesting that the view changes completely depending on the height.
It is also beautiful in the season of fresh greenery after the cherry blossoms. It feels cool in the shade of the trees, and there are a family of ducklings, kingfishers, and turtles. It is interesting to look for living creatures, and I often talk with my son about how wild life exists even in the Meguro River, a river that has been tended by people.
In Setagaya Ward, there are people fishing for crawfish and cleaning the river. I feel like the river is loved by local residents. I think many people make the Meguro River a part of their lives.
People, animals, and even the seasons are nurtured. If I were to give a name to the road, it would be "nurturing road."
東谷彰子(タイムアウト東京副代表)
幼少期はマニラで、中学高校はバンコクで過ごす。 1996年に帰国し、早稲田大学教育学部英語英文学科に入学。卒業後はTOKYO FMに入社。1年間の秘書部勤務を経て、ディレクターとして多様なジャンルの番組制作を担当。2010年1月、ORIGINAL Inc.入社。タイムアウト東京コンテンツディレクターとして、取材、執筆、編集、企画営業、PRなど幅広い分野で活躍。国内外にアーティストから学者、スポーツ選手まで幅広いグローバルなネットワークを持つ。企業や省庁、自治体向けの高品質な多言語対応は高い評価を得ている。
Akiko Toya (ORIGINAL Inc. Executive Vice President)
She spent her childhood in Manila and junior high and high school in Bangkok. she returned to Japan in 1996 and entered the Department of English Language and Literature in the Faculty of Education at Waseda University. After graduation, she joined TOKYO FM, where she worked in the secretarial department for one year before joining ORIGINAL Inc. in January 2010 as a director in charge of program production in a variety of genres. As Time Out Tokyo content director, she is active in a wide range of fields including reporting, writing, editing, planning sales, and PR. She has an extensive global network of contacts in Japan and abroad, from artists to academics to athletes. She has earned a reputation for high-quality multilingual support for corporations, ministries, and local governments.
所在地:東京都/目黒区・目黒川
距離:ロード全長約3.3km
路面:アスファルト
高低差:標高 17m~ 8m
おすすめ季節:春
近隣施設:目黒天空公園、駐車場、駐輪場、トイレ
平均気温:春14℃
緑の多さ:多い
交通量:多い
制定年 : 2022
Location: Tokyo, Meguro Ward, Meguro River
Distance: Approximately 3.3 km for the entire length of the road
Road Surface: Asphalt
Vertical Interval: Between altitudes of 17 meters to 8 meters
Recommended Season: Spring
Nearby Facilities: Meguro Sky Garden, Parking lot, bicycle parking, restrooms
Average Temperature: Spring 14℃
Greenery: Rich
Traffic: Limited
Year : 2022
アクセス :
東京メトロ日比谷線・東急東横線 中目黒駅より徒歩1分
東急田園都市線 池尻大橋駅より徒歩3分
ACCESS :
1 minute walk from Nakameguro Station on the Tokyo Metro Hibiya Line and Tokyu Toyoko Line
3 minutes on foot from Ikejiri-Ohashi Station on the Tokyu Denentoshi Line
編集:ランナーズインフォメーション研究所
撮影:進藤昭洋、小林彩夏
製作:ランナーズインフォメーション研究所
Editor: Runner's Information Research Institute
Photographer: Akihiro Shindo, Ayaka Kobayashi
Production: Runner's Information Research Institute