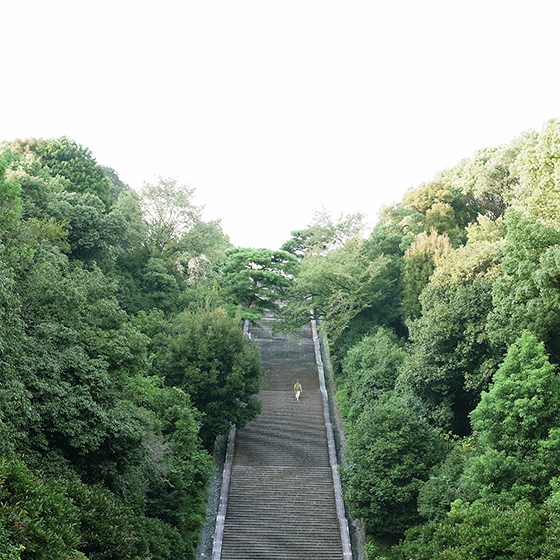 桃山御陵への道
A Road to Momoyama Imperial Mausoleum
京都/伏見桃山陵
Fushimimomoyama, Kyoto
推薦者 : 吉岡幸雄(染色家)
Recommended by Sachio Yoshioka(Dye Artist)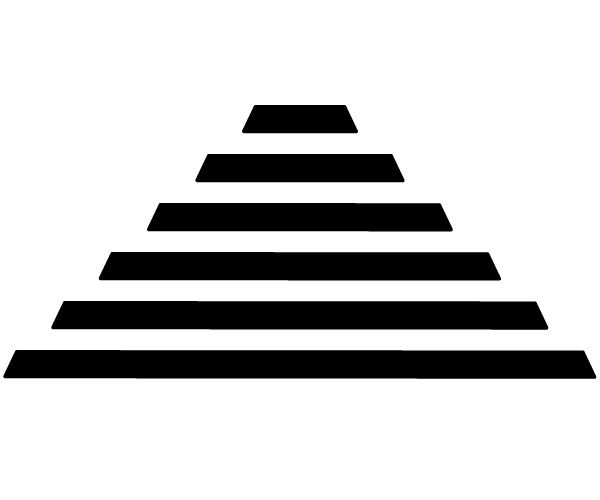 Kyoto, so to speak, reaches directly to Nara by way of the Yamato Road. However, in ancient ages, they went to Nara, after getting across mountains and stopping by Uji. It was because people could not get through the enormous lake called Ogura-ike.
When the Emperor Meiji was passing along this road, he admired the shape of the mountain and wished it to be a mausoleum. As a result, the mountain has become a mausoleum. Since nobody touches the Emperors' mausoleum, it remains as it is.
Earlier, it was Fushimi castle. It was a road ancient people had walked, and subsequently, Hideyoshi had his eyes on it.
Osaka can be commanded from its top. Since it is a base for the entry to Kyoto, if a castle is constructed here, the entry to Kyoto can be protected. Therefore, in consideration of river distribution for the Uji river, Hideyoshi constructed a castle here. Hideyoshi was an expert of civil engineering work. Tokugawa took over it after the Battle of Sekigahara. Accordingly, the names of the castle town are apparent in this periphery. For example, Mikawa-machi, Kagayashiki and suchlike. It became an abandoned castle in the Edo era and was called Fushimiyama. As some people planted peach trees there in Edo era, it became Momoyama.
On the opposite side of the Emperor's Mausoleum is the Empress' Mausoleum. The prayer-offering road is used by people in this neighborhood for taking strolls.. However, it is hard unless you have physical strength. There is a considerable distance.
About half of the route is primary forest. After ascending 260 steps of the stair, there is a large keyhole-shaped tomb mound and a shrine gate. After getting across the mountain, there also is a park over there. You may take an excursion around the whole eight kilometers in length.
Children in this periphery exercise their feet and hips. Taruho Inagaki was born in this neighborhood. Greenery is very abundant. People rarely come here for tourism, unless they are very special. There used to be an active water spring in the past, though it cannot be seen these days.
京都いうのはね、大和街道で京都からまっすぐいったら奈良に行くんやけど、古代は山を越えて宇治にいってから奈良に行った。というのは、巨椋池という大きな池があってそこを渡れなかった。その古代の道のところを明治天皇が通られてるときにこの山の形がいいからと御自分の御陵にと言われた。それで山がほとんど御陵になっている。それ故にいい形でそのまま残っている。その前は伏見城だった。だから、まず古代の人が歩いた道で。次に秀吉がそこに目を付けた道なんです。頂上から大阪が見える。京都の入り口の拠点なんで、ここに城を建てると京都の重要な口をおさえられる。それで淀川、宇治川の河川の流通を考えて秀吉がここに城を建てた。秀吉言うのは土木工事の名人や。 関ヶ原の戦いの後徳川家のものになって。だからこの辺城下町の名前がついてるんですよ。三河町とか、毛利長門町とかね。そして、江戸時代に廃城になったりしてもとは伏見山って言われてたんやけど、江戸時代に桃を植えた人がいたんや。それで桃山になってな。天皇陵の向こうが皇后領。この山ぜんぶ御陵で残ってる。いわゆる参拝道がずっとつづいてて、この辺の近くの人の散策の道なんですよ。でもねちょっと体力がないとつらいんです。けっこうあるんですよ。ほぼ半分くらいは原生林。230段の階段を上ると鳥居と前方後円墳がある。山を越したら向こうにも公園があるんですよ。全長でいうたら8キロぐらい周遊できるかな。この辺の子はここで足腰鍛えているんですよ。稲垣足穂もこの辺に住んでいました。すごく緑豊かやからね。観光ではまず来ない。昔は水が湧いてたんですよ。
吉岡幸雄(染色家)
Sachio Yoshioka(Dye Artist)
dye artist. Fifth generation of the Somenotsukasa Yoshioka. Took part in dyeing for traditional events at Todaiji temple, Horyuji temple, Yakushiji temple and Isejingu shrine and carried out reproduction works for gigaku (ancient masked drama) costumes, Tsukurihana (artificial flowers), flags (banners) and so forth. Among his writings: Color Dictionary of Japan (Shikosha); "Colors Japanese have Loved (Shinchosha)," and many others.
染色家。「染司よしおか」5代目。東大寺、法隆寺、薬師寺、伊勢神宮など社寺の伝統行事の染色に携わり伎楽衣装、造りはな、幡などの復元制作を行う。著書に「日本の色辞典」(紫紅社)、「日本人の愛した色」(新潮社)など多数。
Year : 2012
ACCESS
5 minutes' walk from Momoyama Station on the JR Nara Line
5 minutes' walk from Momoyama-Minamiguchi Station on the Kintetsu Line
Editor:Moto Takagi,Tetsuya Tsukamoto
Photographer:Tetsuya Tsukamoto
Production: Runner's Information Research Institute
認定年 : 2012
アクセス
JR奈良線「桃山駅」下車 徒歩5分
近鉄線「桃山南口駅」下車 徒歩5分
編集:高木基、塚本哲也
撮影:塚本哲也
製作:ランナーズインフォメーション研究所