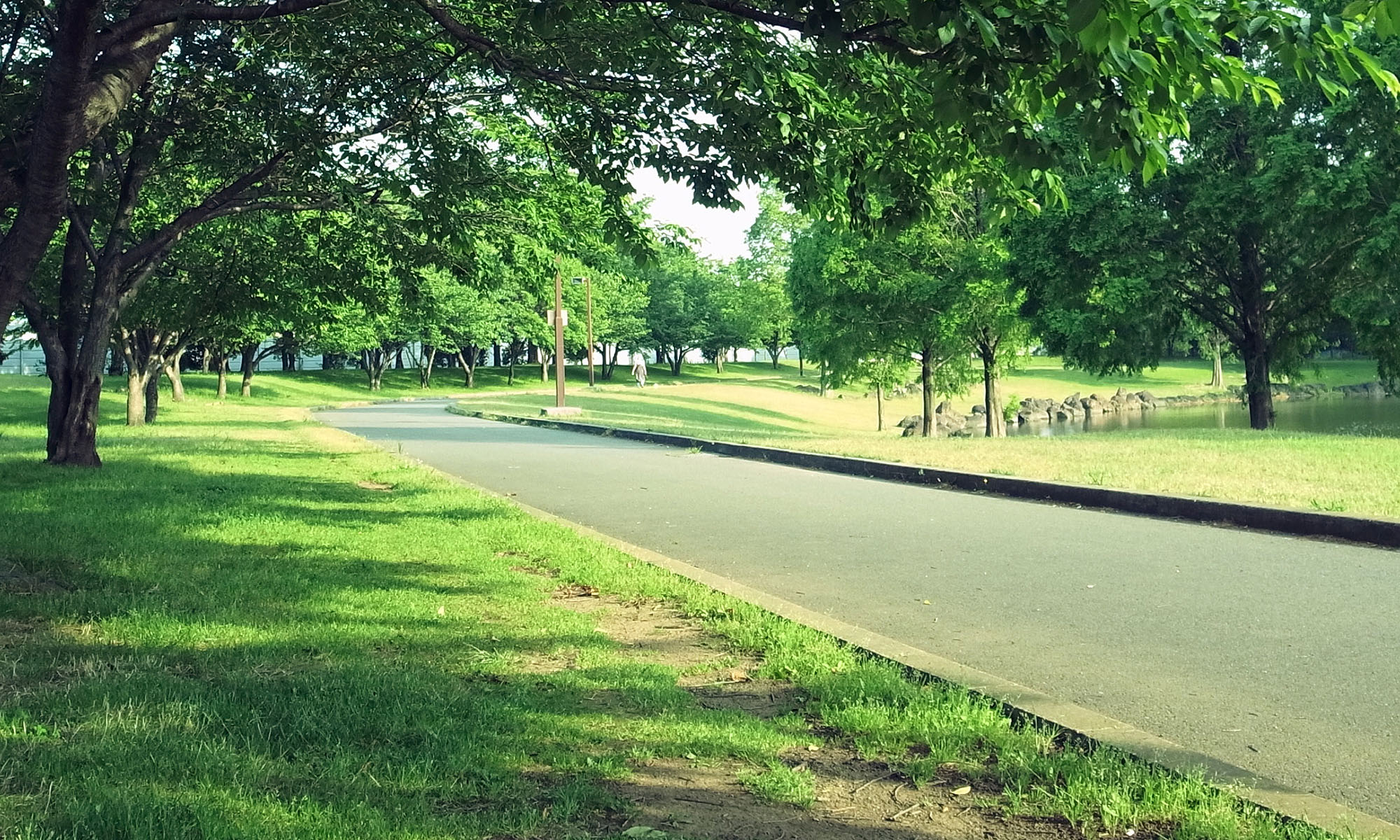 ランナーがつくった道
Routes created by runners themselves
Kazo, Saitama
Recommended by Yuki Kawauchi (runner)
脚にもやさしいトレーニングに最適なコース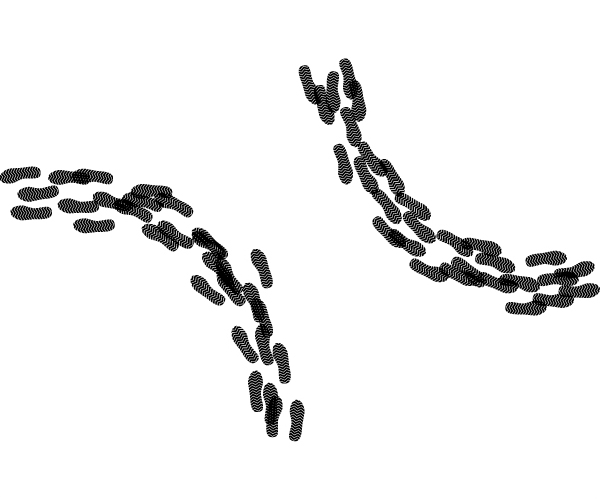 ある公園で芝生の部分を走っている市民ランナーの方を見かけて、こんなコース取りもあるんだなと、そこから着想を得たのですが、木々の豊かな公園の芝生はトレーニングにお薦めです。ちょっとした発想の転換で身近な公園が素晴らしいトレーニングフィールドになりました。
夏場にはみんながプールに入っている間に、日陰のクロカンコースを走る。「加須はなさき水上公園」のクロカンコースで、僕は日々練習しています。この公園は探鳥会が定期的に開かれるくらい、木々が豊かで気持ちがいいところですし、真ん中には大きなプールがあって夏場はそこでみんな思い思いに楽しんでいます。
僕が走るコースは、距離としては2km以上とれて、池があってその周りを走ったり、木々の間を抜けて走ったりとか、ちょっと説明しづらい部分もあるのですが、日陰の中をぐねぐね走っています。ロードでも1kmと1.5kmのコースがありますが、芝生が本当に綺麗に整備されているので、うまくコース取りをすると9割以上、日陰のコース取りができ、脚にもやさしく、適度なデコボコで色々な筋肉も鍛えられるこのクロカンコースが僕の理想のトレーニングコースですね。
Routes created by runners themselves
I recommend training in the grassy areas of the park which are full of trees, an idea I originally had after seeing some local runners running on the grass in another park and thinking to myself "Hmm, it's possible to create your own running course on the grass too." This has changed my perspective, and I have found that my nearby park is a wonderful training ground.
In summer, when everyone is in the pool, you can run on a shady cross-country course. I do everyday training on a cross-country course in Kazo Hanasaki Aquatic Park. This park has a wonderful atmosphere thanks to its abundance of trees—so many that a bird-watching group regularly holds meetings here—and with the large pool located in the center, it is a place that everyone can enjoy in their own way in summer.
The course I run is more than 2km long; it is a little difficult to describe, but it winds its way along in the shade, does a circuit around the lake and weaves in and out between the trees. There are also courses of 1km and 1.5km in length along the paved road, but the cross-country course is my ideal training course: the grass is very neatly maintained, the course is skillfully laid out to ensure that over 90% of your running is in the shade, it is kind on the legs, and provides your muscles with all kinds of training due to having just the right degree of ruggedness.
川内優輝(ランナー)
埼玉県立春日部東高等学校、学習院大学を経て、埼玉県職員。
学習院大学時代には関東学連選抜として箱根駅伝に2度出場。2009年からは埼玉県職員として働く傍ら市民ランナーとして活躍。11年に東京マラソンで日本人トップとなる3位。同年、第13回世界陸上競技選手権大会へ出場し団体銀メダル。その後、北海道、シドニー、防府など各地のマラソンで優勝。13年2月の別府大分毎日マラソンでは2時間8分15秒の大会新記録で優勝。翌月にはソウル国際マラソンで自己ベストを1秒更新。さらにその翌月には長野マラソンで日本人初優勝を飾った。
Yuki Kawauchi (runner)
After graduating from Kasukabe Higashi High School in Saitama and Gakushuin University, Yuki Kawauchi currently works as a Saitama Prefecture public servant.
While studying at Gakushuin University, Yuki ran twice in Hakone Ekiden as one of the select runners from the Inter-University Athletic Union of Kanto. From 2009 onwards he has run successfully as a "citizen runner" while also working as a public servant in Saitama. Yuki finished third in the 2011 Tokyo Marathon and was the first Japanese runner to finish. In the same year he ran in the IAAF World Championships in Athletics and helped his team claim a silver medal. Subsequently, Yuki has gone on to win marathons in Hokkaido, Sydney, Hofu and other cities. Yuki finished first in the Beppu-Oita Mainichi Marathon in February 2013, breaking the record with a time of 2:08:15. The following month he set a new personal best in the Seoul International Marathon beating his previous time by one second. In the month following the Seoul International Marathon he became the first Japanese runner to win the Nagano Marathon.
所在地:埼玉県加須市
距離:ロード(1km、1.5kmコース)、芝生、クロカンなどコース取り自在
路面:アスファルト、芝生、土
高低差:適度な傾斜あり
おすすめ季節:春夏秋冬
近隣施設:ランニングステーション(ロッカー・シャワールーム:有料)、トイレ、プール、駐車場(1200台:季節により有料)
平均気温:夏25.8℃、冬4.6℃
緑の多さ:非常に多い
その他:公園では、季節に合わせて様々な行事が行われています。
制定年 : 2013
Location: Kazo, Saitama Prefecture
Distance: Courses determined by the runner including road (1km and 1.5km course), grass and cross-country
Road surface: Asphalt, grass, earth
Altitude difference: Reasonable degree of slope
Recommended season: All seasons
Nearby facilities: Running station (lockers, shower room: fee-charging); toilets,pool, parking lot (holds 1,200 vehicles: fee-charging according to the season)
Average temperature: Summer: 25.8℃/Winter: 4.6℃
Greenery: Very abundant
Year : 2013
アクセス :
東武伊勢崎線花崎駅下車徒歩約10分
東北自動車道久喜ICから車で約15分(県道370号線経由)
東北自動車道加須ICから車で約12分(県道370号線経由)
ACCESS :
10-minute walk after getting off the Tobu Isesaki Line at Hanasaki Station
15-minute drive from the Kuki Interchange on the Tohoku Expressway (via Saitama Prefectural Road No. 370)
12-minute drive from the Kazo Interchange on the Tohoku Expressway (via Saitama Prefectural Road No. 370)