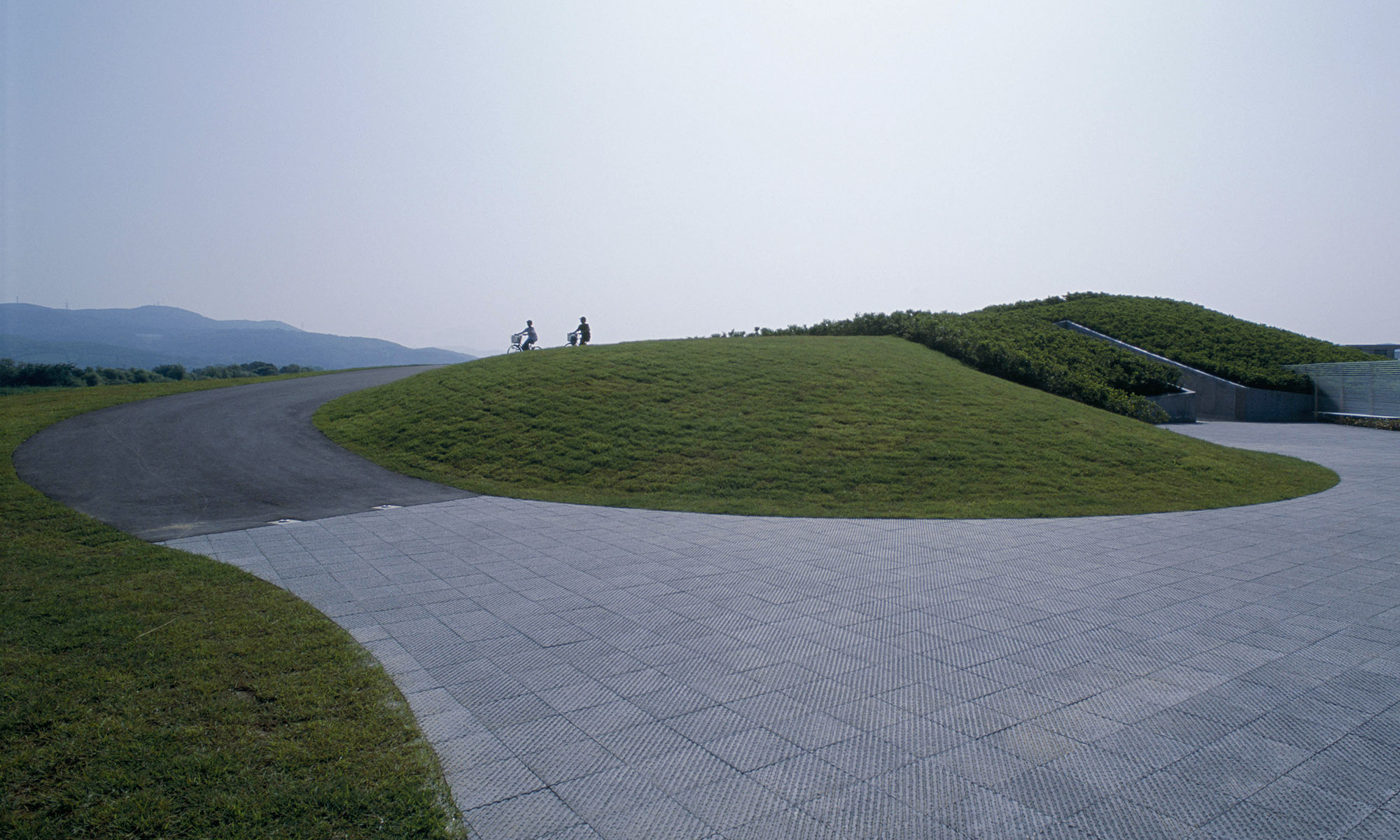 北上川の土手沿いの道
A path along the banks of Kitakami River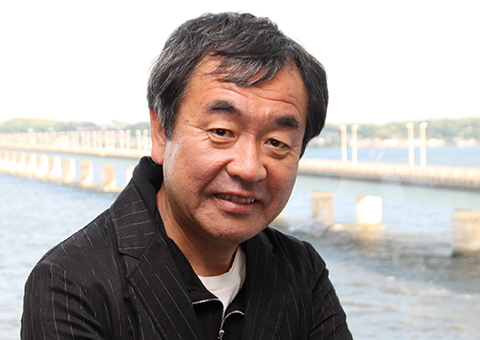 20年前から北上川とつきあってきました。きっかけは上流の登米市登米の能楽堂の設計でした。登米は静かで小さな町ですが、伊達藩の時代から能の文化を脈々と伝えて、今でも能のサークルがあって若い人達も熱心に能を学び、演じ続けています。
さらにこの町には明治21年建設の尋常小学校も残っていて、これがとても素敵な建築でした。気仙大工の作といわれています。気仙大工はその繊細な技で知られる日本を代表する職能集団ですが、今回の震災でその存続が危惧されるほどの大きなダメージを受けました。しかし、旧尋常小学校の建築自体は全くダメージを受けておらず、木造建築の美しいプロポーションと、暖かい質感は健在です。
北上川を下流にくだると石巻でそこから北上運河が分岐します。その分岐点は北上川運河交流館「水の洞窟」を設計したのが、1997年です。土手の中に建築を埋め「見えない建築」をめざして設計しました。
3月11日の大きな揺れのあと、すぐ登米と石巻の建築に電話をしましたが、全くつながらず、緊張して数日過ごしました。なんとか無事らしいとの情報が入り、すぐに現地を訪ねました。北上川のゆったりとした美しさだけは昔のままでした。登米と石巻をつなぐ土手沿いの道の意味は僕にとってますます大きくなりました。
登米の建築も、石巻の建築も、僕にとっては、人生の転機と呼びたい重要な建築です。2つの建築を通じて職人の技の持つ力を知り、自然というものの尊厳に触れました。その2つは結局はひとつのものであるような気がします。ひとことでいえば、それは「東北の力」ということになります。なぜそのような力が東北に備わっているのでしょうか。東北の地形の細かいヒダが関係しているように、僕は思います。北上川が作る谷も、そのヒダのひとつです。ヒダが職人を守り、景観を守ってきたのです。
登米と石巻で、「東北の力」に触れたことで、僕の建築は変わっていきました。ヒダの持つ力が、僕を変えたのです。
I have associated with Kitakami River for 20 years. The trigger was the designing of the Noh Theatre in Tome, Tome-City near the upper river. Tome is a tranquil, small town, yet the culture of Noh has been passed down uninterruptedly since the period of Date Clan (since about seventeenth century). The youth are learning the Noh enthusiastically in the Noh circle and continuing to perform even today.
Furthermore, in this town remains the ordinary primary school that was built in 1888, the 21st year of Meiji era. This was a very fine construction, reportedly a work of Kesen carpenters. Although Kesen carpenters are a group of craftsmen that are reputed with their fine skills and represent Japan, we suffered a substantial damage from the Great East Japan Earthquake to the extent that we were worried about their existence. However, the building itself was not damaged at all and maintains the beautiful proportion and the warm feel of material.
Go downstream on the Kitakami River, and you will reach Ishinomaki, from which the Kitakami Canal diverges. It was in 1997 when they designed the Kitakami Canal Water Exchange Center, the Canal Museum, at the watershed. The construction was buried in the river banks and they designed it as a "hidden construction."
I tried to make phone calls to carpenters in Tome and Ishinomaki immediately after the massive quakes on March 11th. However, I could not reach anyone and spent several days feeling nervous. No later than the information that they managed to be all right, I visited the site. The sullen beauty of the Kitakami River was just as before. The significance of the road along the river banks between Tome and Ishinomaki grew increasingly greater to me.
The buildings in Tome and Ishinomaki are so important that I would like to call them a turning point in my life. I learned the power of craftsmen's skills and the solemnity of the nature itself. After all, these two things seem like one thing. In short, it is the power of Tohoku district, Japan's northeast. Why does such a power exist in Tohoku? It seems to me that the fine pleats of its landform have something to do with the power. The valley that Kitakami River makes is one of the pleats. The pleats protected the craftsmen and the scenery.
The encounter with the power of Tohoku in Tome and Ishinomaki changed my architecture. The power of the pleats changed me.
隈研吾 (建築家)
コロンビア大学客員研究員を経て、隈研吾建築都市設計事務所を設立。慶応義塾大学教授を経て、現在は東京大学教授。自然と技術と人間との新しい関係を切り開く建築を提案。主な作品に「森舞台/登米町伝統芸能伝承館」、「那珂川町馬頭広重美術館」、「石の美術館」、「水/ガラス」、「サントリー美術館」、「根津美術館」がある。
Kengo Kuma (Architect)
He organized Kengo Kuma Associates after working as a visiting researcher at Columbia University. After lecturing as a professor at Keio University, Kuma currently teaches as a professor at Tokyo University. He suggested an architecture that opens a new relationship among nature, technology and people. His masterpieces include "Forest Stage – Tome Traditional Arts Folklore Museum," "Nakagawa-machi Bato Hiroshige Museum of Art," "Stone Plaza," "Water/Glass," "Suntory Museum of Art," and "Nezu Museum."